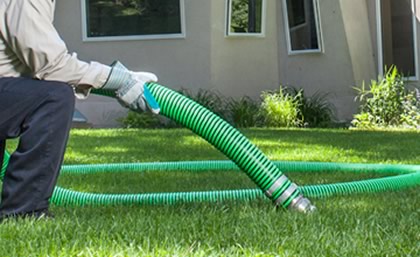 How often should I pump my tank?
The recommended intervals on septic pumping for a family of 4 living on a 1000 gallon conventional tank or a 500 GPD aerobic are every 3 years.
Do Ridx and other additives give you any benefit?
Per Texas A&M research the products that are advertised to help septic systems are of no benefit. Nothing takes the place of septic pumping.
Where do I information on my septic system?
Depending on the age of the system, the County Environmental Health Office should have a design for your property with the specifications of your septic system on file.
Why can't you pump from a clean out in the yard?
To pump a septic system you have to physically stick the hose into the contents of a septic tank.
A clean out is designed to help identify where a blockage in the line is if you ever have a backup in the house. There is no possible way to pull a vacuum on a septic tank through a clean out.
What happens if I don't pump my tank out?
When septic systems are not pumped out on a regular basis, the sludge will build up in the tank and will cause failure to the drain field or to the pump depending on what type of septic you have on the property.
When buying a home should I get the septic inspected?
Absolutely! The reason being, because septic can be costly to repair or even replace. Would you buy a used vehicle without letting someone qualified look it over? A septic inspection lets you as the buyer have piece of mind that your septic does not have any issues and you know exactly where it is and whether all components are functioning properly.
How do I schedule an appointment?
Please call Craig or Riley at 830-743-2090
We are on a first come first served basis. We are usually a couple of days out on work.
Does Craig's Septic offer maintenance contracts for aerobic septic systems?
No, we are not licensed maintenance providers. Depending on your location and the brand of aerobic you have we can refer you to a licensed septic maintenance company.
What do I do when I get a septic alarm?
Silence the alarm and call immediately. The alarms go off for a reason, your tank needs to be looked at by a septic professional to identify the problem.
Do I need to be home when I make and appointment?
Not unless there are special circumstances like dogs in the yard, gates that need to unlocked or if the septic system is in an area with restricted access. If you would like to be home we would love the chance to meet you and visit about your septic system.
How do I pay?
We take most credit cards, check or cash. Payment is expected upon completion of services.
Why does my septic system smell?
If you get a strong odor, your system is not working properly. A technician will need to come out and check the system to try to identify what is causing the smell.